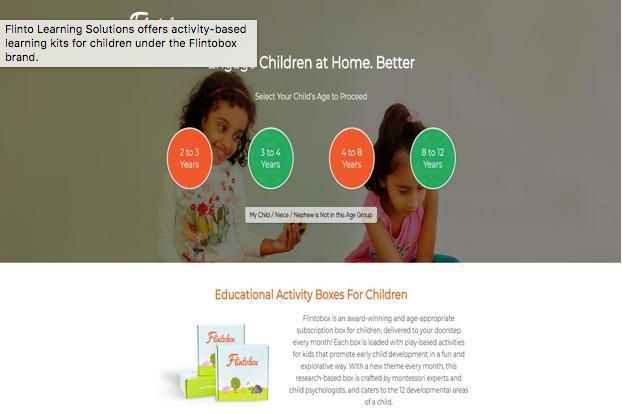 06 Dec

Flintobox raises $7 million from venture capital firm Lightbox

Flintobox will use the funding from Lightbox for expanding its content offering, followed by a stronger sales and marketing effort

New Delhi: Flinto Learning Solutions Pvt. Ltd, which offers activity-based learning kits for children under the Flintobox brand, has raised $7 million from early-stage venture capital firm Lightbox, the company said on Tuesday.

Some of its earlier investors also participated in the round.

The firm had earlier raised $1.5 million over separate rounds from angel investor Ashwin Chadha, GSF Accelerator, US-based Globevestor, Germany-based seed fund Asian E-Commerce Alliance and Mauj Mobile.

Flinto Learning was started in August 2013 by Arunprasad Durairaj, Vijay Babu Gandhi and Shreenidhi Srirangam. It is based in Chennai.

The company ships packaged learning kits for children in the age group of 2-12 years, with differentiated content for each age sub-group.

Each month it sends out a Flintobox covering a new topic or activity to subscribers who sign up. The subscription costs Rs650 per child per month.

The company shipped 40,000 Flintoboxes in October, co-founder and chief executive Durairaj said.

"The bigger vision for the company is to build a trusted brand in the early learning space and we are executing through a fun-play based way of child development. We have multiple product lines: on the consumer side we have the Flintobox and on the enterprise or schools' side we have Flintoclass," said Durairaj.

Over 350 schools in 25 cities have subscribed to the Flintoclass programme.

Durairaj said content is the biggest differentiator for Flinto Learning. About 30 people work on product and design out of the total of 120 that the company employs.

Most of the fresh capital will be spent on expanding the content offering, followed by a stronger sales and marketing effort.

"Flinto is addressing a massive need in early childhood development by conveniently delivering a subscription-based product to your doorstep every month. Their passion for building high-quality design-led products is unparalleled," said Lightbox partner Prashant Mehta.

Flinto, which sells only through its own online store, is also exploring other retail channels.